COVID-19 UPDATES
Changes in the world, requires changes for In Good Hands. The new protocols and procedures that we have implemented are for the protection of our clients, therapists, families and our community.
WHEN YOU ARRIVE FOR YOUR APPOINTMENT:
You are required to wear a mask once you arrive, for the duration of your massage and until you leave. Your mask better protects us, and our mask will better protect you.
If your mask is:
-Bandana style
-Polyester spandex neck fleece
-Mask with a one-way valve
-Or if we find that your mask is not fitting you well and falling down, we will provide you with a disposable mask for our protection.
Please be sure to arrive on time for your appointment.
Please wait in your car until you are called or waved in by your therapist, as the doors are locked to help minimize client exposure to others. This also allows us to provide accurate client tracking should it be needed.
Please do not bring any outside food or beverage containers into the clinic (no water bottles)
Please sanitize your hands upon entry.
Upon arrival you will be screened. Here are the questions we will be asking you:
HAVE YOU OR ANYONE IN YOUR HOUSEHOLD TRAVELLED OUTSIDE THE PROVINCE OR COUNTRY IN THE PAST 14 DAYS?
HAVE YOU OR ANYONE IN YOUR HOUSEHOLD HAD ANY CONTACT WITH ANYONE WHO IS COVID POSITIVE IN THE PAST 14 DAYS?
Do you or anyone in your household have new onset of any of the following symptoms:

Fever
Cough
sore throat
shortness of breath/breathing difficulties

Do you or anyone in your household have new onset of two or more of the following symptoms:

Runny nose
Muscle aches
Fatigue
Loss of Smell or Taste
Headache
Hoarse Voice
Nausea, Vomiting or Diarrhea for more than 24 hours
If you answer yes to any of the symptoms in question 1 or 2 or more of the symptoms in question 2, please call us to cancel your appointment. You may also wish to call Health Links for further assessment and possible testing (204-774-6581). You can call back to reschedule as soon as you can confirm that you are no longer symptomatic and do not need to self-isolate.
OUR NEW PROCEDURES FOR YOUR PROTECTION:
You will be required to sign an Assumption of Risk waiver prior to your appointment.
Extra time has been implemented in the schedules for cleaning and sanitizing of all surfaces between every client.
Appointments will be staggered to avoid contact with other clients as much as possible.
Therapists will be wearing a mask and other PPE as recommended by Manitoba Health.
Seniors, immune compromised, and pre-natal clients will be considered higher risk and appointments will be available during lower risk time frames.
Extra cleaning regimes have been added to our daily cleaning schedules.
IF YOU ARRIVE WITH ANY ILLNESS OR SYMPTOMS AS LISTED ABOVE, YOUR APPOINTMENT WILL BE CANCELLED.
SOME POLICY CHANGES TO BE AWARE OF:
If you have travelled outside of the province (to any province) we kindly ask that you book your appointment 14 days after your return. If you have a travel exemption, please call the office to discuss this with your therapist.
We will not be offering bookings at the same time.
We will not be offering cupping, and TMJ work at this time.
A 2nd wave of COVID-19 may occur in Manitoba. If this happens, we may have to suddenly cancel appointments again. We will follow all recommendations made by the Massage Therapy Association of Manitoba and Manitoba Health.
We thank you for your patience and understand as we try our best to provide you with the same level of care you have come to expect, while we learn to adapt to the new world we live in.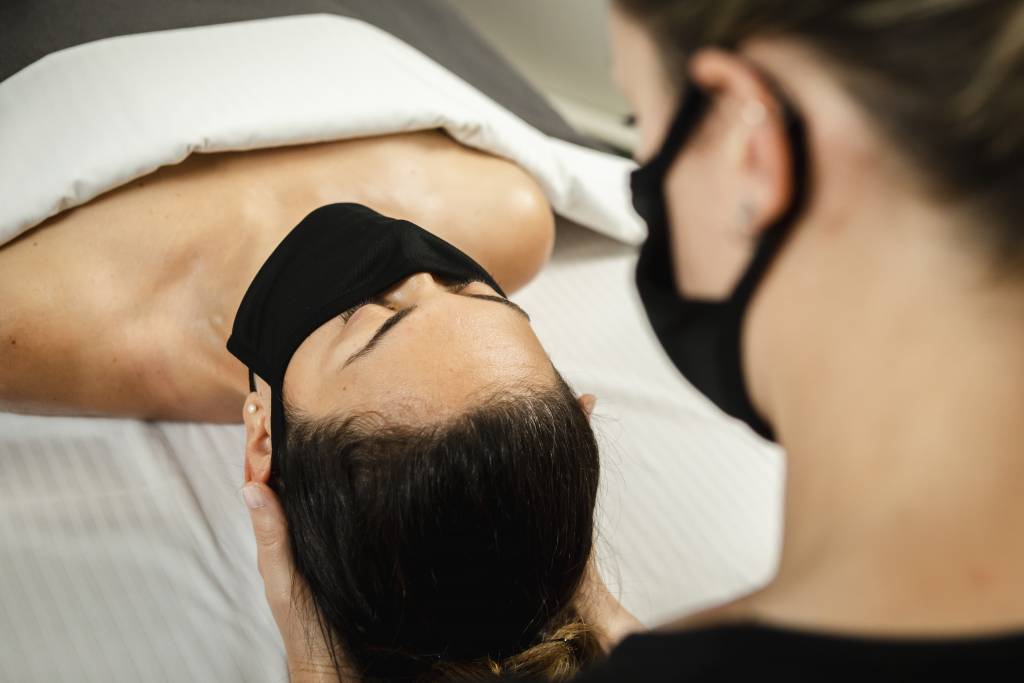 You owe yourself this moment